The world's largest container ship relies on three-stage, air-cooled SAUER Levante compressors for its starting air
With a capacity of 23,992 standard containers (TEU), the Ever Ace of the Taiwanese shipping company Evergreen is currently the largest container ship in the world.  The ultra-modern ship is equipped with a total of four SAUER Levante WP320L Marine starting air compressors.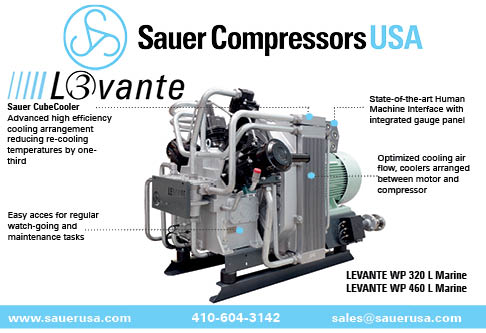 The giant ship was built by the South Korean shipyard Samsung Heavy Industries. Five more ships of the same type are planned.
The Ever Ace has now been underway for the first time since the end of July. It is deployed between Northern Europe and Asia. The destination: Qingdao in the eastern Chinese province of Shandong. The container ship sails on the Ocean Alliance's NEU6 route, which Evergreen operates under the name China-Europe-Mediterranean Service (CEM).
The freighter's calls include Rotterdam, Tanjung Pelepas (Malaysia), Taipei (Taiwan), Shanghai, and Felixstowe (England). During its stopover in Hamburg a few weeks ago, it already handled 6,000 containers.
Image credit: kees torn – EVER ACE (CC BY-SA 2.0)