One of the first Sauer industrial compressors was used to extinguish electrical arcs in electrical substations. Since this sale back in 1956, we have made constant efforts not only to expand and develop our expertise but also to invest it in the compressors themselves. As a result, Sauer is now one of the best-known suppliers for electrical substations – an application requiring safe and reliable operation given the extreme conditions encountered. Sauer offers reliable solutions for renewable energies too, for example the distribution of bio-methane in order to generate electricity. With its gas-tight compressors built to individual customer specifications, Sauer is one of the forerunners within this sector. Sauer is always happy to take into account customers' individual requirements and is able to cater for (virtually) any request.
Models Associated with
Our customers benefit from the following advantages:
State of the art compressors, control systems, compressed-air treatment systems and accessories
Optimum customer services starting with the initial enquiry and extending over the entire life of the product
100% compressor check at final pressure including 3.1 inspection certificate
Long operating life with guaranteed availability of replacement parts (minimum 25 years)
Turn-key solutions produced in accordance with customers' specifications
Customer-specific documentation and calculations
Great reliability, even during intermittent operation l Individual, customer-oriented service concepts
Electrical substations
Part of a country's electricity supply network, electrical substations are operated by energy supply companies and are used to change the voltage levels. The optimum voltage is selected according to the level of power which is to be transmitted and the distances over which the electricity must travel. Electrical substations are in use within national and regional transmission networks (usually in the form of open-air facilities) as well as district and local distribution networks (usually in the form of indoor facilities). Transformer stations are the final link in the chain which provides the lower voltage required by consumers.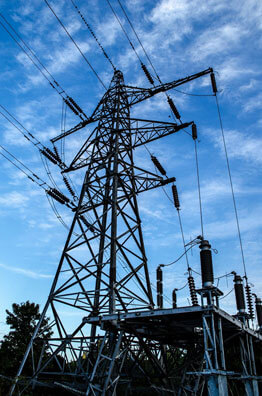 What are Sauer Compressors used for?
Extinguishing electrical arcs
Actuating open power switches
Who are Sauer Compressors' customers?
Energy-supply companies
Major industrial companies which have their own electrical substations
Local operators of electrical substations
Engineering offices
Which Sauer product ranges are used?
Product ranges: MISTRAL, PASSAT, HURRICANE, TORNADO,
Variants: Basic, ComSilent
Volumetric flow: 6 –175 scfm (10 – 300 m³/hr)
Pressure range: 435 –1450 psi (30 –100 bar)
Medium: Air
Air and gas distribution
What would an infrastructure be without systems to distribute the energy sources available? Sauer Compressors deals not only with local compressed-air networks and natural-gas networks but also with renewable energies. With its expertise and understanding of its customers' requirements, Sauer is able to provide the optimum solution to a particular problem. Customer-specific solutions with gas tight compressors, turn-key systems and container stations are therefore part of the typical range of products which the company offers.
What are Sauer Compressors used for?
Starting air
Desulphurisation
Feeding biomethane into the national and international network
Recovering gas lost as a result of leakage
Feeding natural gas and air into the relevant networks
Which Sauer product ranges are used?
Product ranges: PASSAT, HURRICANE, 6000
Variants: Basic, BasSeal, ComSeal
Volumetric flow: 30–1180 scfm (50 – 2000 m³/ h)
Pressure range: 230–5075 psig (16–350 bar)
Medium: Air, bio-methane, natural gas
Who are Sauer Compressors' customers?
Energy-supply companies
Gas-station manufacturers
Gas-treatment companies
Engineering offices