Compressed Air Oil-Free Compressors
Compressed air generated by oil-free compressors has many interesting applications. The oil-free compressors for the HAUG series operate completely dry, i.e. without lubrication of the cylinder and an oil bath in the crank mechanism. This prevents any contamination of the compressed air by the lubricating oil.

Fields of application for oil-free compressed air:
Hospitals – production of breathing air and air for the operation of surgical tools
Dentistry – as central compressed air supply
Pharmaceutical Industry – the production of medicines and process air
ABB High Power Switches –  process air
Chemical Industry – instrument and process air
Power Plants and Water Stations – control air
Research – air supply in the laboratory
Manufacturing – compressed air supply for production, packaging, and processes
HAUG boosters have additional advantages:
They are very quiet and compact and can, therefore, be used as decentralized workplace compressors.
They are leak-free, thanks to the gas-tight design, and thus have no compressed air leaks.
They offer the best possible compressed air quality due to the oil-free compressor principle.
They have low energy consumption due to the optimized torque curve.
They offer a better service life of the wear parts due to the gas-tight design.
Please download the HAUG company profile and specific compressor datasheets for more information.
Download the Haug Company Profile Brochure Here 
Click Here to Learn More About Haug Compressors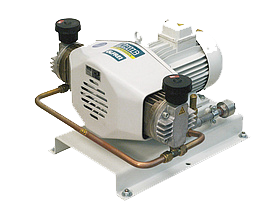 HAUG.Cygnus