Every ship should have one!
International shipping with its stringent requirements for quality and reliability is Sauer's traditional area of activity.
Our starting and working air compressors have proven their reliability in this demanding market. Thanks to ongoing development, they are among the most modern and most economic compressors in the world.
In particular, the 3-stage air-cooled starting air compressors provide a significant contribution to the modern shipping concept compared with the traditional 2-stage water-cooled compressors. With these products, Sauer has become one of the leading suppliers of compressors for shipping and offshore technology.
Our quality sets the standard throughout the world.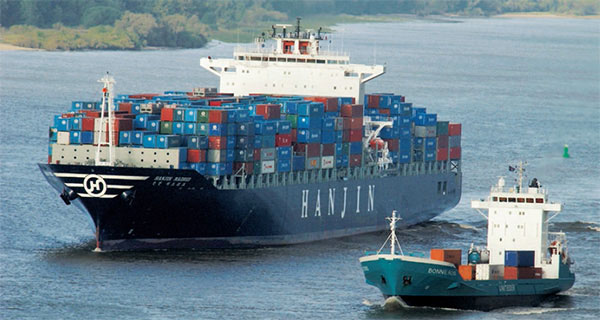 2 Stage Air-Cooled Starting Air Compressor
Today, the principle of air cooling is an international shipbuilding standard concerning starting air compressors of less than 50 scfm. Back in the 50s, Sauer had already started the development of air-cooled compressors in this capacity range as an alternative to water-cooled units which are in general high maintenance and more prone to failure. Today, Sauer's 2-stage air-cooled starting air compressors are among the most modern and low maintenance compressors available worldwide. More than a thousand of these dependable compressors are delivered to our customers each year.
General advantages include:
Low installation costs due to absence of cooling water circuit
Light-weight and less space required for installation
High performance valves, friction-free operation for long maintenance intervals
Integrated flexible coupling, low-maintenance
Reliable and safe to operate in ambient temperatures of up to 140° F
Suitable for even the most difficult ambient conditions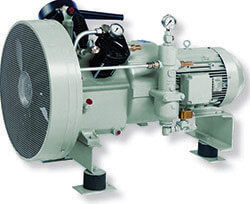 3 Stage Air-Cooled Starting Air Compressor
Today the 3-stage air-cooled compressors have established themselves as a benchmark for modern and cost effective starting-air compressors. By the partition of the total compression into 3 stages and 3 cylinders the general advantages of air-cooled compressors could also be used for compressor capacities above 50 scfm.
Less temperature due to lower stage pressure ratio!
Compression ratio divided into 3 stages
Lower compression temperatures in cylinders and valves achieved
Standard for international shipping
Less maintenance cost due to longer maintenance intervals!
Extended life of valves (up to 4,000 hours) due to lower compression temperatures
Reduced crew costs due to simple, uncomplicated maintenance
No corrosion or water leakages
Less installation cost due to no cooling water system!
No cooling water lines, fittings or control system
No interface for cooling water required
Higher reliability and easier control and supervision of the compressor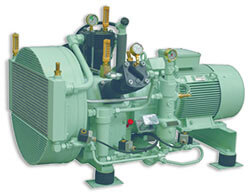 Control and Working Air Compressors
Sauer SC screw compressors, unlike piston compressors, compress air in rotating screws and operate without valves. Sauer SC screw compressors offer much more than industry compressors since they are the synthesis of thousands of industry compressors and of our fundamental knowledge of the requirements of international shipping. The particular design features of Sauer's SC screw compressors ensure trouble-free operation on the seven seas. They are available with fixed speed or optionally with variable frequency drive(VFD).
As an alternative to the screw compressor, Sauer is able to deliver reciprocating piston compressors based on the well-known range of starting-air compressors. Compared with screw compressors, these types are more suitable for shorter operation intervals due to their lower energy consumption as they are start-stop controlled.
The distinct advantages of piston compressors are the standardized parts and the similarity in terms of design with air-cooled starting-air compressors. if you choose your ship compressors carefully, your starting-, control-, and working-air compressors will all have the same wearing parts.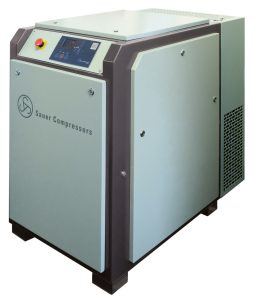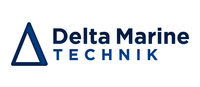 Sauer Compressors USA has partnered with Delta Marine Technik to expand our representation and ensure that shipowners and shipbuilders benefit from the knowledge and products offered by Sauer USA. Delta Marine Technik supplies specialized marine equipment, carefully considering the requirements of the owner and considering the realities of construction and operation to ensure the best overall value. Learn more about Delta Marine Technik here.