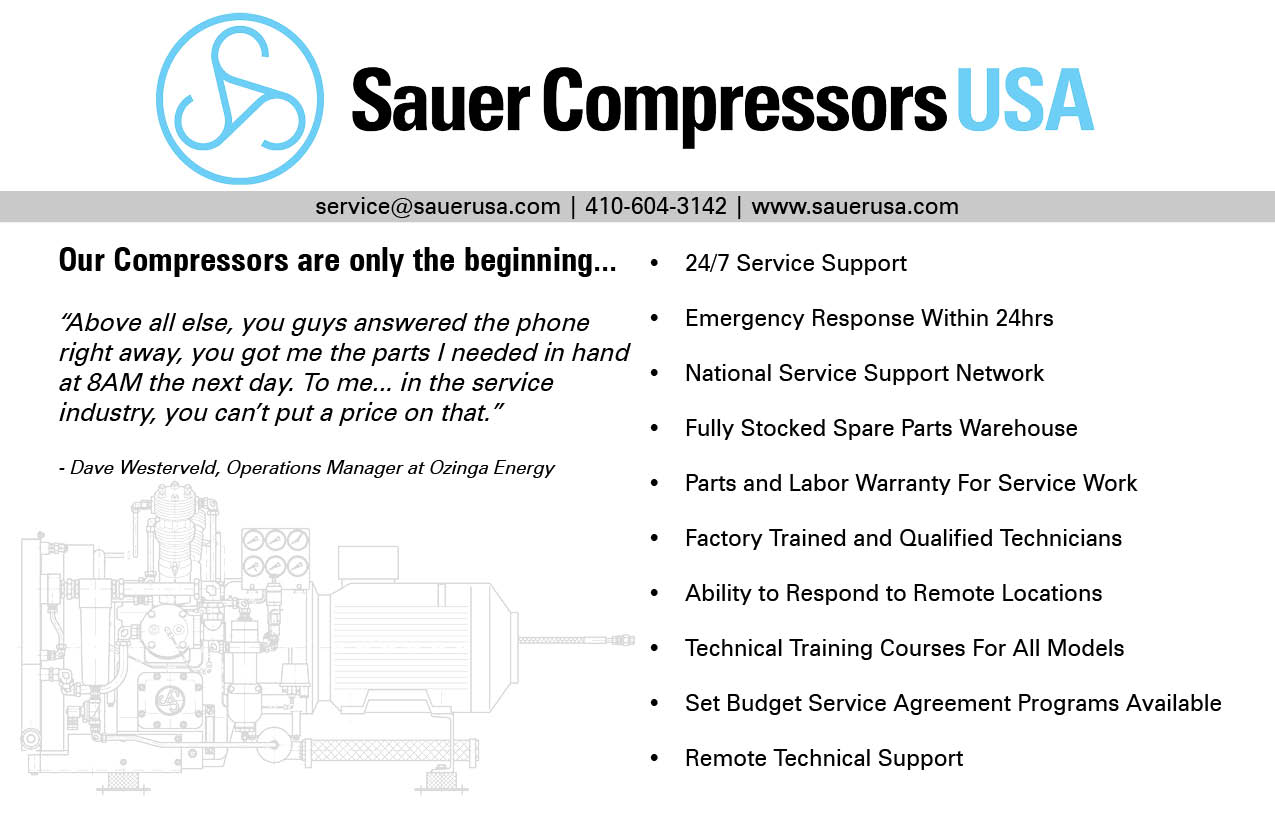 In purchasing a Sauer compressor, not only are you choosing the most reliable and low maintenance compressor solution on the market, but you are also gaining access to our world-class after-sales support, training, parts, and education services.  This post will describe the benefits you can expect to accompany your purchase of a Sauer Compressor from Sauer Compressors USA.
Sauer Support
The support of the Sauer USA team includes these benefits:
One-day complimentary startup support for all locations in the contiguous United States, with two weeks' notice
Guided maintenance documentation is provided based on estimated run hours
Spare parts for your system will be guaranteed available for up to 30 years after your purchase
24/7 technical support and troubleshooting available via phone, email, and live chat
Optional training classes at Sauer USA headquarters or onsite at your location
The objective of the Sauer Support team is to make sure you, our customer, have extensive information, support, and emergency coverage across multiple fronts.
Our Sales team will customize your ideal compressor needs for your project and application.  With the delivery of your compressor, you will receive a personalized USB key with robust ownership documentation and maintenance schedules so that you have reference material ready to look up at any time.
Our Parts team will assure parts availability and fast shipment for both regular maintenance packages and any emergencies that may arise.
Our Service team awaits your needs to perform preventative or emergency onsite service at your call.
Our Support team is ready 24/7 to help answer questions, troubleshoot issues, or suggest actions needed to keep your system operating at total capacity.
Lifetime Warranty
Sauer USA is so confident in our compressor reliability that we offer a Lifetime Warranty on your compressor purchases.  The Lifetime Warranty (purchased separately) covers the compressor block and associated components.  It extends for 30 years from the date of shipment (30 years being the nominal lifespan of a compressor block, after which it is expected to be replaced).  Upon delivery of your compressor, you will only need to file your registration form with Sauer USA upon installation, schedule a Sauer technician to oversee startup, and install and maintain the compressor per Sauer's requirements. While the warranty period is active, Sauer assures that the compressor block will be free of all defects and will continuously operate at or above its original design specifications.
Dedication to Ongoing Education
Sauer USA fully supports empowering others with the knowledge and experience they need for success for our customers and distributors who prefer to dive into compressor service themselves.  We offer a host of education and practical training options for all our compressed air and gas equipment.
For customers, we offer:
Onsite training
Supervised maintenance service
Remote e-learning
Classroom learning
Field re-training or refreshers
Training videos and materials
For our distributors, large multi-team customers, and regional engineering partners, we add more options such as train-the-trainer sessions, supervised customer service calls, new hire orientation and detail training sessions, new product offering seminars, and more.
A World of Support
No matter where you are located in the world, Sauer Compressors is proud to offer onsite parts and service within 36 hours of notice.  That is fast!
Your purchase of a Sauer compressed air or gas system is just the beginning of our long partnership together.  We are here to see you succeed over the long haul.  Sauer's support offerings are explicitly designed to earn and keep our customers for life.  To learn more about Sauer and our dedication to delivering world-class compressed air and gas systems, please contact us or visit our website at the links below.
___________________________________________________________________________
Sauer Compressors USA manufactures world-class air and gas compressor systems.  With origins in Kiel, Germany circa 1884, Sauer has grown from serving European Naval markets to virtually every industrial sector worldwide.  We specialize in high-pressure, continuous duty air and gas compressors, back with 24/7 support, extensive spares stock, multiple regional offices across the country, and the only Lifetime Warranty in the high-pressure market.  With more than 53 of the world's navies relying on Sauer Compressors, we know what it means to serve our customers.  To discuss your application, from spare parts to complete turn-key plants, please browse our website, call (410) 604-3142, or email [email protected].