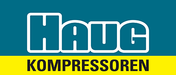 In the course of its further strategic development, the Sauer Compressors holding company (J.P. Sauer & Sohn Beteiligungsgesellschaft mbH) situated in Kiel / Germany has taken over 100% of HAUG Kompressoren AG from St. Gallen, Switzerland, with all its sites. HAUG Kompressoren AG specializes in the design and production of oil-free piston compressors in the range of 0.5 to 110 kW and employs around 40 people at the St. Gallen site. Like Sauer Compressors, HAUG is a family owned company operating worldwide.
In compressor technology, HAUG stands for highly sophisticated oil-free and gas-tight piston compressors for air and a wide range of gases.
As part of Sauer Compressors, the HAUG brand will be kept as it is and today's general manager Beat Frefel will continue his work in the management. Franck Lallart, managing director of Girodin-Sauer SAS, will be the second general manager. HAUG's headquarters in St. Gallen will be developed to become the centre of excellence for oil-free compression technology within Sauer Compressors.
This partnership offers significant opportunities for growth and success for both companies, globally as well as technologically. The worldwide acclaimed oil-free products of HAUG Compressors are the perfect complement to the existing oil-lubricated compressor range from Sauer Compressors.