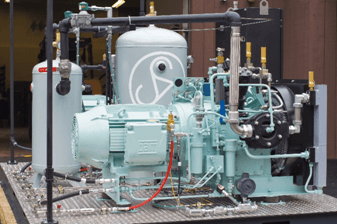 Compressed Natural Gas (CNG) has the potential to fuel millions of vehicles throughout the world, with significant economic, safety and environmental benefits. The US, in particular, is experiencing an ongoing movement to promote the move to natural gas as an alternative to petroleum fuels in the transportation market. The US currently has more than 1,100 CNG stations in operation and over 112,000 natural gas vehicles on the road today. The number of vehicles is increasing significantly, as are the fueling stations needed to fuel them.
Sauer USA sees the potential for growth in the booming industry and has partnered up with various leaders in CNG. We are able to provide not only the latest in technology, but a true customized solution regardless of the standard or requirement.
Past projects have included offerings ranging from a bare compressor block to a turn-key package fully customizable to our partners' needs.  Specifically, our Hurricane series of high pressure compressors has remained the proven solution for CNG fill stations. Much of production is handled in house at our headquarters location in Stevensville, MD, USA. The complete compressor package is then shipped to our partner and packaged with their filling station prior to installation with the end user.
Our CNG packages are designed to allow for a true "plug-and-play" installation out in the field; however, our technicians are available around the clock to provide onsite start-up and maintenance assistance.
Right: CNG vehicle fueling station for mid-sized fleets built around Sauer's world class compressor. The following package was introduced to market by one of Sauer USA's leading partners in CNG.