Your industrial compressed air and gas system constitutes a major investment and a significant contributor to operating efficiently and productively. Keeping your air compressor in peak condition should be high on your list of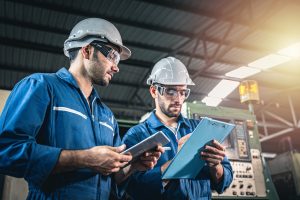 maintenance activities. Performing routine checks, tests, cleanings, and adjustments will go a long way toward keeping your air and gas compressors in fine condition, generating a host of benefits. Use this air compressor maintenance checklist to keep your air compressor running smoothly.
Check for Temperature Stabilization – Cleaning your air compressor's cooling components enables the system to prevent extreme temperatures from detracting from performance. Ambient temperature contributes to operating temperatures, so as the thermometer rises, monitor your air compressor's lubrication closely to ensure it remains within manufacturer thresholds.
Inlet filter Cartridges – Cleaning the vents weekly and installing new filters per manufacturer recommendations makes the air compressor's job easier, improves energy efficiency, and does much of the heavy lifting for filtration stations further down the line.
Drain Traps – Inspect, clean, and test drain traps often; damage caused by malfunctioning traps is easily avoidable.
Oil Filters -These filters can easily last six months or more under moderate conditions. Still, they should be replaced annually or after every 1,000 hours of operation, whichever comes first, in typical industrial applications. Cleaning the separators along with each oil filter change.
Air leaks – Search for leaks simply by listening for the familiar hissing sound or go high-tech with an ultrasound leak detector.
Oil Leaks – If your industrial air compressor's oil level diminishes more rapidly than usual, an oil leak could be blamed. Chances are the oil is leaking from an unsecured connection, damaged mating surface, worn seal, or compromised gasket.
Routine checks, maintenance, and timely repairs will ensure the maximum life and optimal performance for your industrial air compressor. A well-maintained machine will operate efficiently and, in turn, save you money, all the while delivering quality compressed air for all your applications.
Get more support from your local Sauer Service team. Contact us today if you have any questions or need support: [email protected] or 410-604-3142