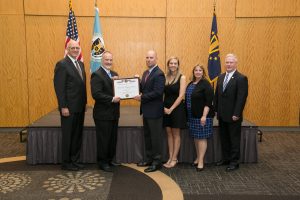 Johnny Moore, Vice President of Operations/ Facility Security Officer, and Ashley Sylvester, HR Manager/ Alternate Facility Security Officer, accepting the James S. Cogswell Outstanding Industrial Security Achievement Award
Sauer Compressors USA announces the company was one of 51 facilities that received the 2019 James S. Cogswell Outstanding Industrial Security Achievement Award, the most prestigious honor the Defense Security Service (DSS) may bestow to cleared industry partners of the Department of Defense.
The award recognizes large and small companies for establishing and maintaining a security program that far exceeds the basic National Industrial Security Program requirements; and providing leadership to other cleared facilities in establishing best practices while maintaining the highest standards for security.  Of the more than 13,000 cleared facilities, less than one percent are annually selected to receive this award.
To be considered for this award, Sauer Compressors USA was required to have a minimum of two consecutive superior industrial security review ratings, which shows a sustained degree of excellence and innovation in their overall security program management, implementation, and oversight. "We are honored to receive the Cogswell Award in recognition of our dedication and focus on security excellence. This is a clear reflection of Sauer's commitment to providing the best possible service to our customers while always maintaining the highest security standards in the industry," said Don Eaton, Sauer Compressors USA's President and Chief Executive Officer.
The award was established in 1966 in honor of late Air Force Colonel James S. Cogswell, the first chief of industrial security within the Department of Defense.  Cogswell was responsible for developing the basic principles of the Industrial Security Program, which includes an emphasis on the partnership between industry and government to protect classified information.  This partnership ultimately ensures the greatest protection for the U.S. warfighter and our Nation's classified information.
Winners were announced at the 2019 Annual Conference of National Classification Management Society (NCMS) on June 12, 2019 in St. Louis, MO.
About Sauer Compressors USA:
Sauer Compressors USA Inc. specializes in the manufacturing of medium and high-pressure air and gas compressors for naval, commercial maritime, offshore, research & development, and demanding industrial applications.  Rated for continuous duty, all compressors have been field tested in the most demanding applications and extensively refined to provide true 24/7 reliability supported by the Sauer Lifetime Warranty.  With a reputation for reliability and life cycle product support, Sauer Compressors is the global leader in the medium and high-pressure compressor markets.
For more information please go to www.sauerusa.com or reach out to [email protected]